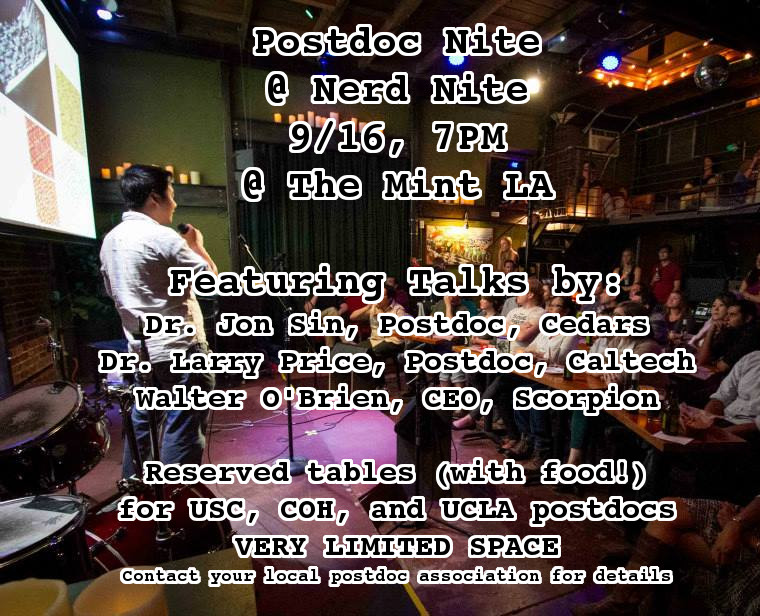 Together with the postdoctoral associations of USC, Cedars-Sinai, and City of Hope, we are pleased to bring you Postdoc Nite @ Nerd Nite on Tuesday, September 16th at 7PM at the Mint on Pico Blvd. In celebration of Postdoc Appreciation Week, we have very limited space available at reserved tables with food provided. The evening will feature talks by TWO postdocs and several celebrities:
Dr. Jon Sin, a postdoc at Cedars-Sinai Medical Center will be entertaining us will the virus version of "Grand Theft Auto."
Dr. Larry Price, a postdoc at Caltech, will describe the search for gravity waves predicted by Einstein's Theory of General Relativity.
The Executive Producers from the new CBS show "Scorpion" will be coming out to talk about how they write "genius" dialogue.
Full summaries may be found here . Do buy your tickets immediately… as of August 28th, 50% of the avalible tickets have been claimed, and the remainder are expeted to sell out fast!
Nerd Nite is a monthly event featuring fun talks tailored for a general
audience and presented in a relaxed and casual atmosphere. For a full
description, see the event website or this LA weekly article.
Write us soon at outreach at postdoc dot ucla dot edu to inquire about reserving a spot at one of our tables. Food will be provided, but note that you will be responsible for purchasing your own ticket as well as your own drinks. Tickets are currently $10, but will be increasing in price for the event following this one. Come to unwind, to learn and be entertained, and to meet postdocs from all over Los Angeles!
We're also looking for postdocs interested in speaking at future Nerd Nite events. If this could be you, write outreach at postdoc dot ucla dot edu with a 2-3 sentence summary of your proposed topic.